RCSB PDB Poster Prize for Student Presentations
Poster Prize Overview
In 2012, the following prizes were awarded:
ECM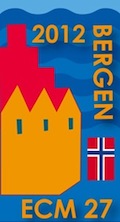 At the 2012 European Crystallographic Meeting (ECM, August 7-11, Bergen, Norway), the award went to Jonas Lindholt for Cardiotonic Steroids and the Na/K-ATPase (Jonas Lindholt, Linda Reinhard, Poul Nissen, Centre for Membrane Pumps in Cells and Disease (PUMPkin) and Department of Molecular Biology and Genetics, Aarhus University, Denmark).
Many thanks to Andreas Roodt (ECM Prize Committee and University of the Free State, South Africa), the European Crystallographic Association, and the judges: Udo Heineman (Max-Delbrück Center for Molecular Medicine, Berlin), Linda Shimon (Weizmann Institute of Science), and Ute Krengel (University of Oslo).
---
ISMB

At the 2012 Conference on Intelligent Systems for Molecular Biology (July 15-17, Long Beach, CA), the award went to Alan Barber for Evolution of function in the alkaline phosphatase superfamily (Alan Barber,1 Jonathan Lassila,2 Helen Wiersma-Koch,2 Michael Hicks,1 Daniel Herschlag,2 Patricia Babbitt.1 1University of California, San Francisco, 2Stanford University).
Many thanks to the Steven Leard, the International Society for Computational Biology, and the judges: Yana Bromberg (Chair, Rutgers), Hannah Carter (Johns Hopkins), Jeroen deRidder (Delft University of Technology), Iddo Friedberg (Miami University, Oxford, Ohio), Tatyana Goldberg (Technical University Munich, Germany), Ben Jelen (Rutgers), Hande Kucuk (University of Miami), Biao Li (Buck Institute, Novato), Magali Michaut (Netherlands Cancer Institute), Yanay Ofran (Bar Ilan University), Susanna Repo (EMBL-EBI), Venkata Satagopam (EMBL-Heidelberg), Andrea Schafferhans (Technical University Munich), Avner Schlessinger (UCSF), Stefan Senn (Rutgers), Janita Thusberg (Buck Institute, Novato), Tobias Wittkop (Buck Institute, Novato), Chengsheng Zhu (Rutgers).
---
ACA

At the 2012 Meeting of the American Crystallographic Association (July 28-August 1; Boston, MA), the award went to Sergei Kalynych for Crystallographic studies of closely related lipopolysaccharide O-antigen chain length regulators (Sergei Kalynych,1 Deqiang Yao,2 James Magee,1 Mirek Cygler2 1McGill University, 2University of Saskatchewan)
Sergei will receive a subscription to Science and a copy of a book of his choice.
An honorable mention was awarded to Rebecca Goldstein for A possible mechanism for the regulation of the PI-PLC from S. aureus Rebecca Goldstein, Jiongjia Cheng, Mary Roberts, Boston College
Many thanks to the judges: Barry Finzel (Chair, University of Minnesota), Patrick Loll (Drexel University), and David Rose (University of Waterloo), and to Marcia Colquhoun and the ACA.
---
AsCA
At the 2012 Asian Crystallographic Association (AsCA) meeting (December 2 - 5, Adelaide, Australia), the award went to Yohta Fukuda for Atomic resolution structure of copper-containing nitrite reductase provides insights into common properties of type 2 copper-containing enzymes (Yohta Fukuda, 1 Taro Tamada, 2 Hideto Takami, 3 Tsuyoshi Inoue, 1 Masaki Nojiri; 1 Osaka University, 2 Japan Atomic Energy Agency; 3 Japan Agency of Marine-Earth Science and Technology)
Many thanks to Charlie Bond (University of Western Australia) and AsCA.
---