RCSB PDB in the Time of COVID-19
06/16
Biocuration
The first SARS-CoV-2 structure, main protease (PDB ID 6lu7), was deposited on January 26, 2020 and was immediately biocurated so that it could be included in the earliest possible weekly update of the PDB.
Since then, more than 200 COVID-19-related structures have been submitted to the PDB archive. Each entry has been quickly biocurated by wwPDB biocurators following these "guiding principles":
Biocuration of COVID-19 structures is prioritized over that of other structures, including post-release revisions such as citation updates
Authors are encouraged to release their structures immediately
Consistent taxonomy name and ID (Severe acute respiratory syndrome coronavirus 2; 2697049) are applied to all COVID-19 structures
All released SARS-CoV-2 structures and related resources are highlighted at http://RCSB.org/covid19.
The biocuration team described the privilege and responsibility of being a biocurator in a recent news article.
Data Access and Exploration
A major focus of the development team during the past year has been improvement of the RCSB.org website architecture to significantly revise and improve tools for searching and exploring PDB data. Working remotely, the team has been able to release the next generation of RCSB PDB tools, including search functionality that combines text, sequence, and coordinate queries. Other new and improved features include
Basic Search available from the search box at the top of every RCSB PDB website page
Advanced Search Boolean options
Display of Advanced Search results for PDB structures, assemblies, or unique polymeric molecular entities (unique sequences)
Left sidebar menus for refining Search Results
Stored Search History
New MyPDB features, including registration using Google, Facebook, or ORCID authentication, and email notifications of stored searches
Improved Download Tool for downloading data files in batches
New GraphQL and REST APIs for accessing and searching PDB data
Sequence motif search
These tools can be used to search and analyze SARS-CoV-2 structures in the context of other structures in the PDB, including those from SARS and MERS.
Additional features will be made available soon, including Custom Tabular Reports, Chemical Component Search tool, access to SDF files, and more.
Outreach and Education
To coincide with the release of the first SARS-CoV-2 structure (6lu7), the February Molecule of the Month focused on the Coronavirus Main Protease.
Since then, materials including molecular landscape paintings, downloadable illustrations, and a video demonstrating the effects of hand washing at the molecular level have been released into a Coronavirus Collection at PDB-101.
New features are being developed, such as the June Molecule of the Month article on the Coronavirus Spike Protein.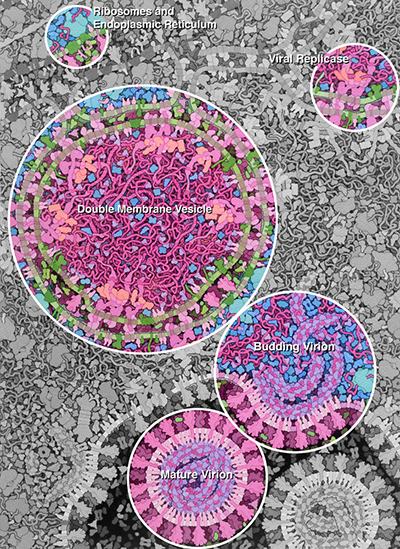 Detail of the Coronavirus Life Cycle, 2020, by David S. Goodsell, RCSB Protein Data Bank; doi:
10.2210/rcsb_pdb/goodsell-gallery-023